The Healing Ward at the Havens of Sirion is the primary workplace of
Nestalinde
and the other healers, Cuinallo, Bronwen, Inuthind, Tatharim, Tinnugwil, Vercatauro, Wen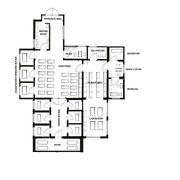 danna, and Arassuil. There also is a small team of Falathrim healers who are formally joined to Nestalinde's team, though prefer to stay amongst themselves.
The Layout
Edit
The Healing Ward is divided into several parts: The Entrance Area and Waiting Room, the Main Ward and Examination and Operating Rooms, the Private Rooms and the Baths, the Storage Area and Lab (off-limits to the public), and Nestalinde's private apartments comprised of a bath, a private study and a bedroom.
Special Features
Edit
A system of curtains has been developed to close off the single beds in the main ward in order to give the patients some privacy during an examination or while they are resting. The Main Ward has no windows except one in the corridor near the entrance, so instead it was built with a domed glass ceiling to ensure the patients reive enough light and fresh air. The same is true for the Private Rooms bordering on the laboratory, and for the baths.
What any visitor will immediately notice is that most walls are lined with shelves; some contain medical emergency kits, most others are holding books, some fiction and non-fiction titles for the patients and visitors that have accumulated over the years, but primarily the Ward's and Nestalinde's own collections of medical texts.
The healers that are not on duty or not on their rounds may relax in the tea kitchen or the study.
Any discrepancies to the floor plan as depicted here are due to an imperfect understanding of the layout at the time of posting and may be read as adhering to the outline as presented here.